First things first: We had a blast at HELL'S PLEASURE, a tiny but highly recommendable festival in Pößneck, a small town nestled in the sweet and green but very remote valleys of Thuringia. At Hell's Pleasure we met old and new friends and saw a shitload of great bands: we got scared by cthulhu-worshipping PORTAL, excited by Swiss eccentrics BÖLZER, sadly missed out REPULSION (don't ask…please…) and got crushed by the mighty ELECTRIC WIZARD, to name just a few.
Yet this here isn't so much about the bands – it's about the fans. On our arrival it struck us once again, that for many people being part of the metal scene is something that wants to be expressed beyond wearing black shirts. Metal literally goes under one's skin, and it seems as if there is a deep longing and tendency to show your allegiance and dedication.
Diana let her eye and camera lead her way through the crowd, not judging or censoring anything, because we wanted to display the big variety of awesome tattoos that struck us in one way or the other. Thus there are also a couple of tattoos none of us would necessarily get ourselves, but that are still worthy showing.
Here they are, various body parts of various people who were all willing to show us what they got. Enjoy (and click to enlarge).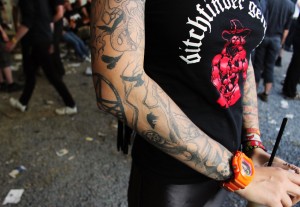 want to see more? Here's a place to visit: http://www.heavymetaltattoo.net/

yours truly Uli (words) & Diana (images)