Spending the summer in Iceland isn't such a good idea if you're into beach holidays – but it can pay off very well if you're constantly looking for interesting bands to feature! During this year's visit in the land of fire and ice we came across the outstanding four-piece death metal band Angist – Angist is Icelandic for agony and grief, but the girls and guys are not wasting their time wallowing in sombre emotions. Instead they sat down together and answered a couple of questions about the band, about being from Iceland and about the still so low female percentage in extreme music.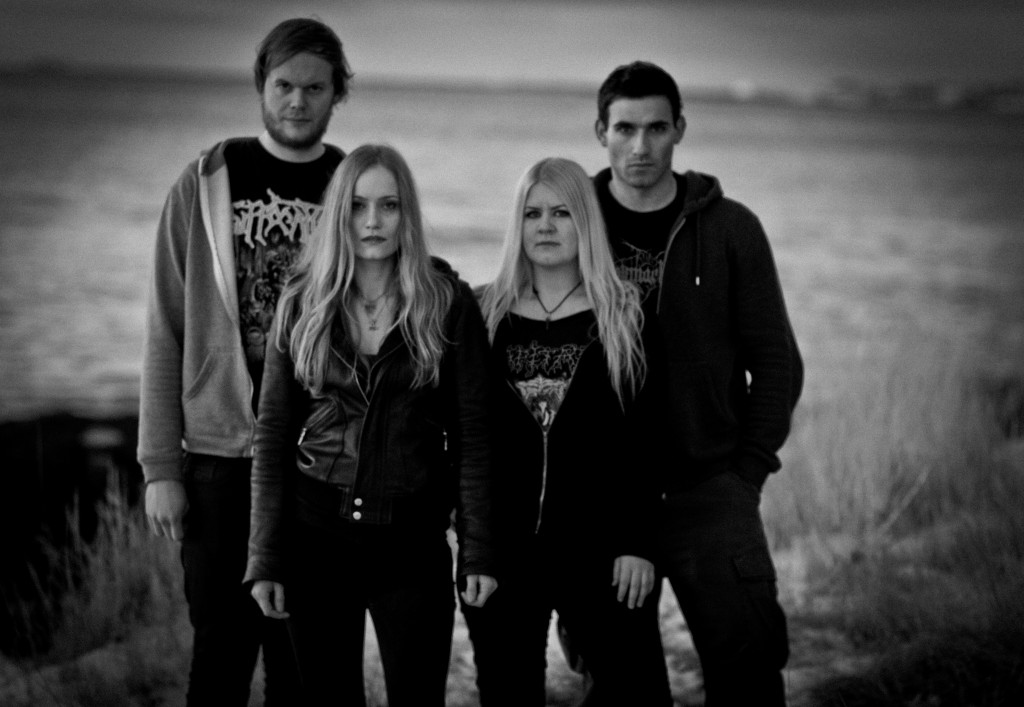 1. Empress: First of all – congratulations for signing with Abyss! How did this deal come about, and how have things changed since then?
Angist: Thank you very much! We are very excited to be working with Daniel from Abyss Records. He has been following us from the very start so it's good to have someone behind us that knows where we are coming from and that we are a hardworking band. Abyss Records has a big promotional company, Clawhammer PR, behind them so the most noticeable change we can see so far is the increasing number of fans and distribution. Both Abyss and Clawhammer are very active and dedicated in their work so we can see our music is reaching more people and that's the most important thing to us.
2. Empress: From what I understood, you already have recorded a full length album? When will it be released?
Angist: We recorded an EP last summer and released it in October 2011. That was our first release and we recorded that with our old drummer. The EP contains five songs and we are very happy with the good reviews it has gotten! It makes us excited to start recording our full-length album which we are now in the process of writing.
3. Empress:  As most people might not be familiar with your band history, could you say a couple of words about how you started with Angist?
Angist: Well, Edda and Gyða knew each other from gigs and such and both shared the same passion for death metal. They decided to sit down and jam. After few months they wanted to make this a proper band so Halli, Edda's brother, joined as bass player and we've had few changes in drummers but we could say that Angist was formed in 2009. We released our first two songs in 2010 and that's when the ball started to roll. We've been fortunate to play a lot of cool shows like opening up for Heaven shall Burn and Iceland Airwaves and 2011 was a great year for us as well. We released our EP and went on an awesome tour in France with great people! 2012 started with a bang when the record deal started to come into talks so we are excited for what 2013 has in store for us, we will at least keep working hard.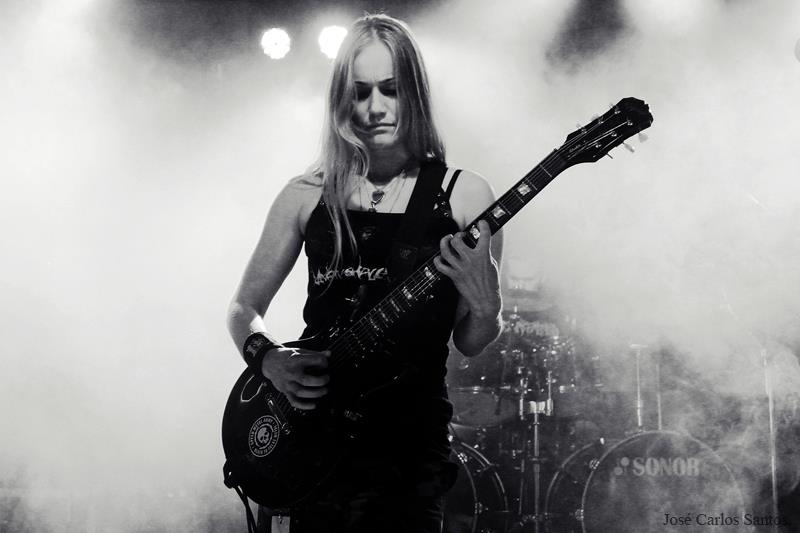 4. Empress: How did you get into extreme metal? And what is your most important influence?
Angist: Edda and Gyða started to listen to hard rock music at a very young age and it evolved into scouting out harder music, louder and faster! Halli got influenced by his cool older sister and Tumi got into hard rock in his early teens and then progressed into extreme metal.
As influences we'd definitely say old Metallica and Slayer and then more recent stuff like Suffocation, Decapitated, Gojira and Bloodbath mixed with black metal influences as well.
5. Empress: Icelandic Metal has for a long time been equated with Sólstafir only, due to the fact that they are the one Icelandic band people in the rest of Europe know. Now it seems as if the rest of the – very diverse – scene is finally getting more attention from outside Iceland – or what is your own impression?
Angist: Yeah we think that Sólstafir definitely opened many doors for people to check out more Icelandic metal bands but the worldwide metal scene has always been acceptable to Icelandic metal, starting with Sororicide in 1991 and then later bands like Severed Crotch signed an overseas record deal in 2009 if I remember correctly and Beneath signed with Unique Leader around the same time. Also the blackmetal scene in Iceland has always gotten attention outside Iceland for a long time like Myrk which got signed around the year 2000 and then other bands followed like Potentiam (which has members of Kontinuum which are newly signed to Candlelight Records), Svartidauði and more.
6. Empress: Will you also be touring outside Iceland or is that too difficult for a still rather new band?
Angist: We went on a fantastic tour in France last October with two other Icelandic bands as a part of "Iceland Invasion Tour" and we opened up for bands like L'esprit du Clan and Loudblast. We are dying to get back on the road and we have been getting some offers but we have to choose wisely because we all have jobs or are in school so even though we wish we could jump on every opportunity we have to make a good decision on this matter. It's also not cheap to get off Iceland and we have to rent everything. But this is definitely something that we love to do. No-one wanted to go home when the tour in France ended! We were travelling with awesome people and we met so many great people on the way. It's great to play for a new crowd every night and foreigners are much more open than Icelandic people. Every place we went people came and talked to us after the shows and hung out and we had a blast. We would love to go back to France and we really want to tour Germany, we really hope to do that in the near future.
7. Empress: Do you consider your music to be particularly Icelandic in any respect?
Angist: Well, we have an Icelandic name and some of the lyrics are about how people are easily corrupted and consumed with greed like so many of our politicians but when people think of Icelandic music, the thought is more of cute people in woolen jumpers playing exotic instruments, not leather clad people screaming their hearts out while bashing their instruments…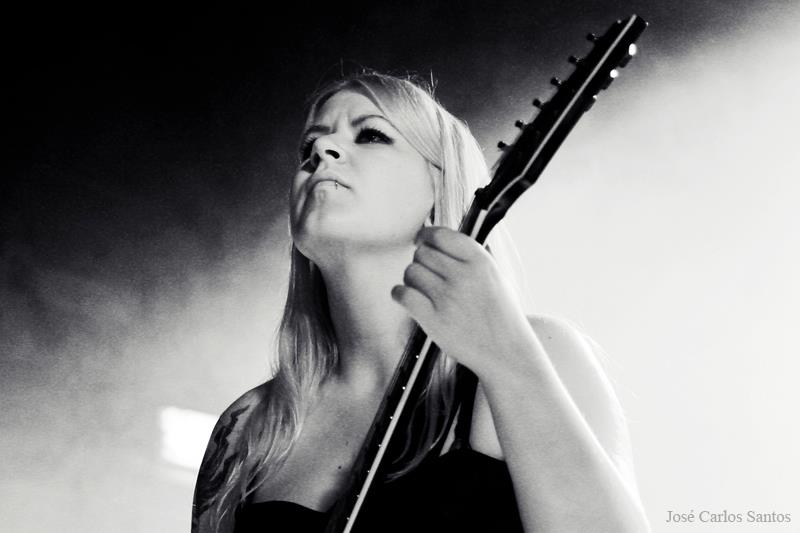 8. Empress: Choose a box.
Angist: Death Metal.

9. Empress: From the impressions I got during my visit to Iceland where I got to see a lot of the Icelandic metal scene, I would say that the proportion of women in metal is just as big (or: small) as it is in the rest of Europe. How is your experience: Has it ever been an issue for you that half of the band is female?
Angist: Well we don't want to promote ourselves as a band with female members because to us music is music and the gender of the musicians shouldn't matter at all. But of course we hope to inspire girls to take action and become active in their local scenes whether it's by being in a band, being promoter, photographer or just coming out to shows and enjoying the music.
Metal is a powerful kind of music and most of the people involved are laid back and friendly so it's our opinion that it's good for young girls to see that there is more to the world than just shut up and be pretty for the boys! Take action and stand up for yourself! And that is something we definitely have to do for ourselves being in such a macho environment. We get comments like: "Woah great music but can they pull it off live!?!" when people don't even think to ask bands that are far more technical with all male members questions like that.
We have also gotten comments that we are only getting all this attention because we have girls in the band but they don't see the endless hard work we put into this band! We've been playing our instruments for years, practice at home, go to band rehearsals, handle all promotion, put out a demo and an EP, played many big shows, gone on a tour in France, signed a record contract, steadily built up our growing fan base and all in space of just little over 2 years and ALL done by us! We wouldn't have this momentum going for us if the girl element was all there was to it and the whole thing would've collapsed long time ago. But we don't listen to negative people and just keep making our music and having fun with each other. We are an extreme metal band and we won't change for anyone. Most people are just happy to see the change of having females on stage and we get great support from our fellow metal heads, fans and friends which we are thankful for.
10. Empress: Is a band like yours unique in the Icelandic scene? And if so, do you have an explanation for the low percentage of (Icelandic) women who actively take part in metal – not just listening to it, but also playing or singing themselves?
Angist: If the question is regarding being unique in the way of having females in the band then yes. We are the only Icelandic extreme metal band so far to have girls and both Edda and Gyða were in metal bands before and then we were also the only ones. But there are girls in punk bands over here.
As said before, girls maybe lack a little push and confidence sometimes and it's always harder and harder to stand up from the crowd and do your own thing when the message of society is to be pretty, have the nicest clothes, coolest boyfriend and so on.
Maybe also computers are taking up more time with kids today and one thing you need to do if you are going to play an instrument is practice. And practice, aaaaand practice.
Also girls are more sensitive to criticism than guys and they sometimes compare themselves to guys who have been playing for much longer time. Your comparison should only be to yourself and your progress.
We've also heard girls say: "My hands are too small". That's no excuse. Gyða's hands are called Babyhands. We have yet to find smaller fingers!!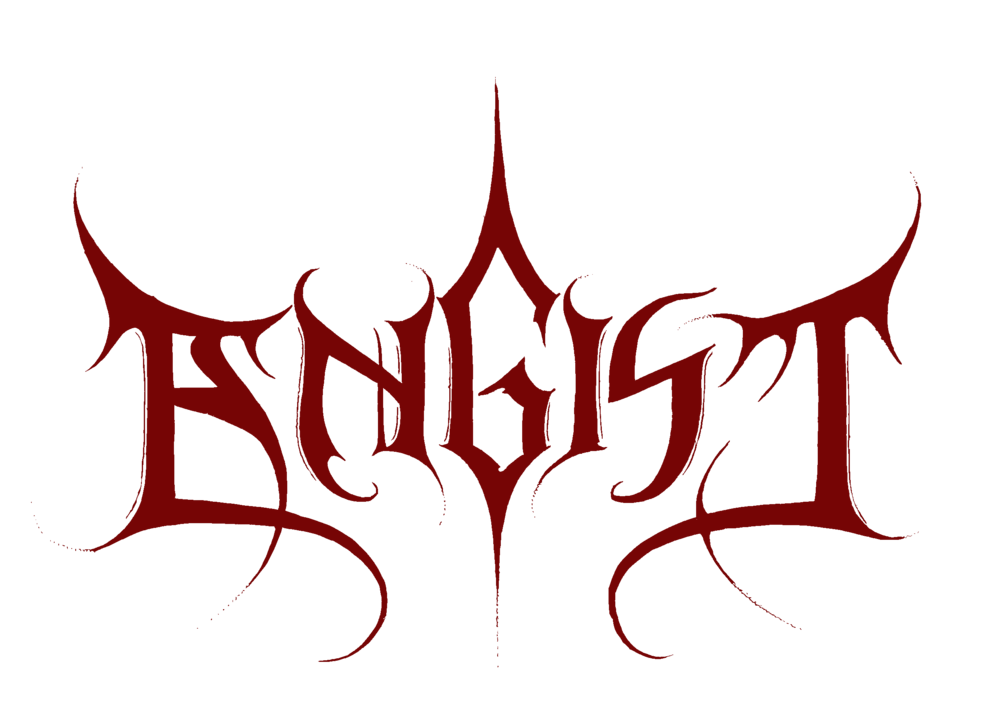 11. Empress: Your logo was designed by Christophe Szpajdel, who is quite famous for his work with other bands in the metal world. How did you convince him to design your logo as well?
Angist: Yeah he's the lord of the logos! We sent him our promo package and songs and he liked what he heard so that's how our cooperation started. We are extremely happy with our logo.
12. Empress: Thanks a lot for taking the time – any last words?
Angist: Yeah thank you for interviewing us and hopefully we can visit Germany soon! We want to remind people of our facebook site  where you can get all the latest info and links to our other sites like YouTube for example.
We are fortunate to have great fans around the world so we want to give a shout out to Unnur, Fanny, Georg, Kornelius, Daniel, Mike and all the great people who support us!