MISSION TO LARS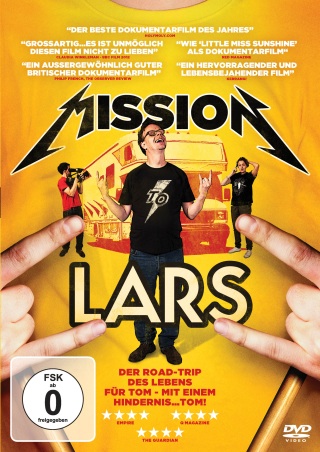 British journalist Kate Spicer and her filmmaker-brother Will are totally NOT into metal. But their brother Tom is. He is a devoted fan of Metallica, and deeply adores drummer Lars. His greatest wish in life is to meet his idol one day. Yet there is one major problem: Tom suffers from fragile x, a syndrome quite similar to autism. After years and years of (not) listening to their brother constantly repeating his dear wish "I wanna meet Lars!" Kate and Will finally decide to take Tom to the States, to give him the chance to see Metallica and to meet his favourite drummer in person.
"Mission to Lars" is more than just a music related road movie. Actually, the exiting question is not "Will Lars, that "larger"-than-life rock star, agree to meet him?" (of course he would, how could he dare not to?) but "How on earth is that going to work at all?"
Tearing their brother away from the safety of his daily routine in Bystock, the care home where he has spent the major part of his life, Kat and Will are forced to question their preconceptions about Tom, about their difficult family relationships and their own way of living.
What makes this documentary rare and precious is its ability to show the complexity and the very determined character of a person who at first glance could be taken for someone completely absorbed by the effects of his syndrome. It is heartbreaking to watch how the siblings finally find a way of dealing with Tom and learn, that this relationship, challenging as it may be, is indeed mutually rewarding. "Mission to Lars" is a story about a man whose love of metal eventually overtakes the fears created by his syndrome. Go watch it!
Watch the trailer here or on the official Mission to Lars homepage